Models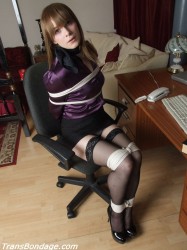 Alicia Snow
Alicia Snow is one of the cutest trans models around. She looks pretty as a picture in silk and satin and loves her bondage. What a sweetie!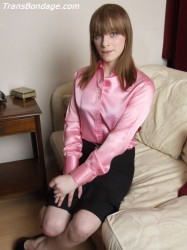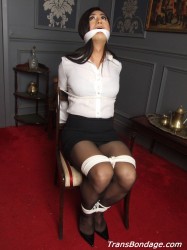 Alina Wang
Alina Wang brings a touch of Oriental mystery to www.TransBondage.com - looking great in blouses, pantyhose and tight bondage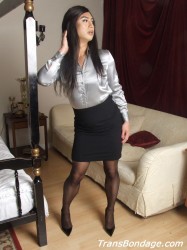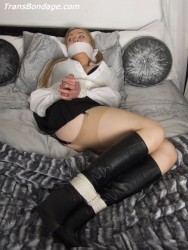 Cece Stone
We are delighted to welcome international trans glamour star Cece Stone to TransBondage.com. Bondage is her absolute passion, but strangely enough you won't find many pictures of her in bondage on the web. That's because it's her private passion which she has chosen to share with TransBondage. She looks great in ropes, as well as being sexy, funny and the consummate professional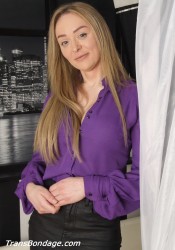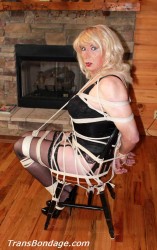 Christelle
Christelle is a TransBondage.com fan from France. She was keen to share her fantastic bondage pictures with us, and we were happy to oblige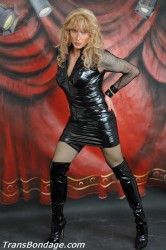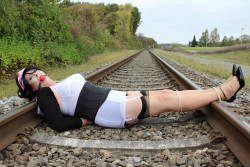 Dizzy Miss Sizzy
Dizzy Miss Sizzy is a well-known European bondage-loving trans who also loves this site and wanted you to see some of her pictures.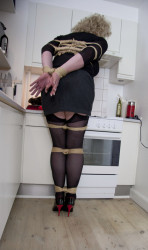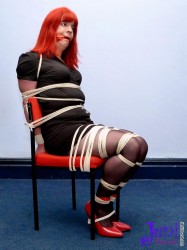 Jeni
Jeni features in galleries first seen in TV Tied.com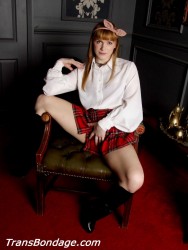 Jessica Doll
Jessica Doll is the new name for the model already on here - Alicia Snow. She just gets cuter and cuter - and very sexy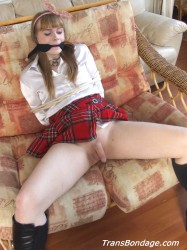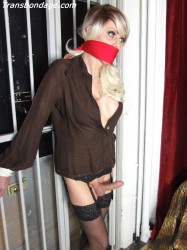 Joanna Jet
One of the UK's best known and best loved transsexual models. Exclusively bound and gagged for your pleasure (and hers)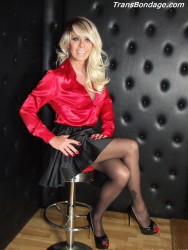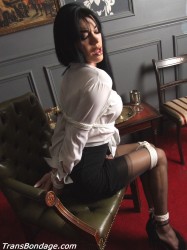 Jordan Jay
We've lured delicious raven-haired Jordan back in front of the camera - and you'll see this beauty how you've never seen her before for her very first bondage experience. Where have you been all this time, Jordan??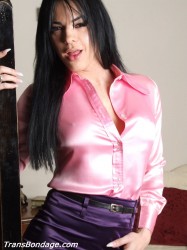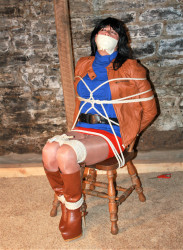 Joyce Alexander
Joyce Alexander is a New York-based TV who loves nothing more than to be tied up and gagged. She's a fan of this site and was keen to share some of her photographs and video with you. If you like what you see you can find more at www.joycealexander.net Transformed by Bondage.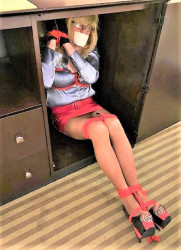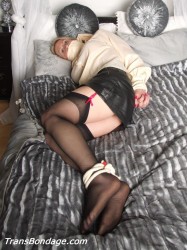 Katie Fox
Katie Fox has been a favourite TS model for quite a few years, but she's new to bondage. In another TransBondage exclusive this blonde honey is tied up and gagged just for us, in a range of sexy, silky outfits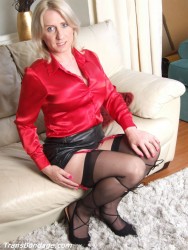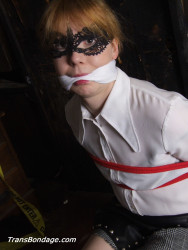 Kayleigh Kink
Our latest exclusive TransBondage signing is the very cute Kayleigh Kink. She just looks so sweet in satin blouses and bondage - and she loves every minute of it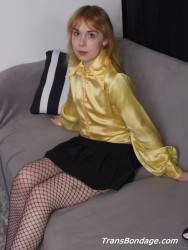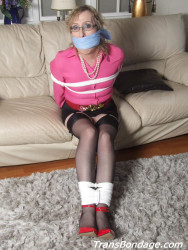 Lisa Essex
Lisa Essex is post-op trans girl who is into just about every fetish you can think of. She loves dressing up in satin and vinatge blouses and absolutely LOVES being tied up. Bondage sex is top of her list of pleasures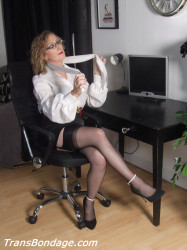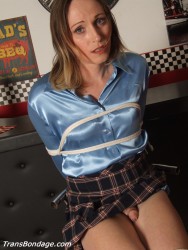 Lucie Sparkle
Lucie Sparkle is a charming and witty model from the Midlands. She looks great in blouses and bondage - as you can see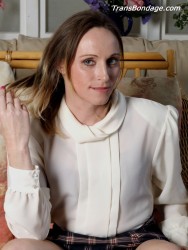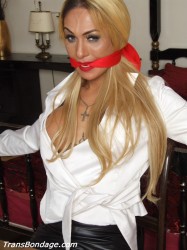 Mia Maffia
Mia Maffia is a legend and rightly so - one of THE sexiest trans models around. And we have a world exclusive - the first bondage site to feature her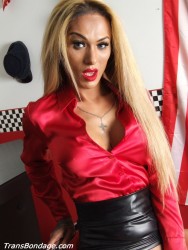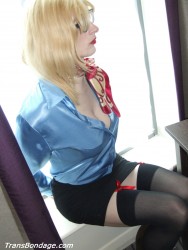 Miss Laura
Miss Laura loves the bespectacled secretary look, taking dictation and being tightly tied and gagged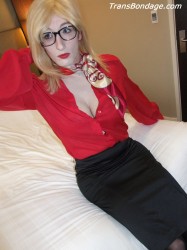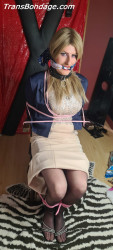 Niamh
Niamh is a trans girl from Ireland who just loves bondage, and loves to dress in satin blouses. She wanted you to see her pictures and we were happy to oblige. More from lovely Niamh soon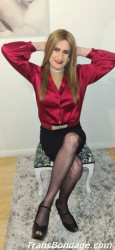 Nina Jay
Nina Jay is a firm favourite among trans bondage models. She features here in picture sets and classic videos.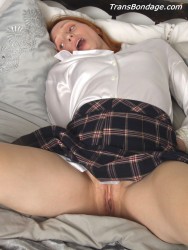 Post-Op Lucie
We've got lots of images and videos of pre-op Lucie Sparkle to share with you. And now we have a TransBondage exclusive, bringing you the first images of Post-Op Lucie. Same girl, but happier.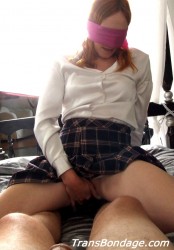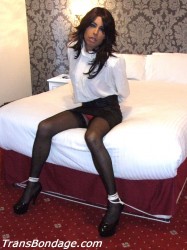 Raven Raine
Leggy and luscious, this mysterious dark-haired lady looks great in ropes and gag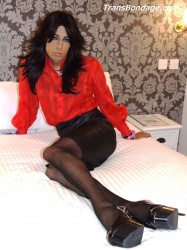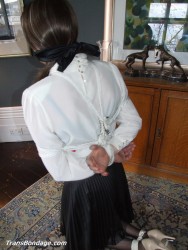 Samantha Shy
As her name suggests, Samantha is shy about her true identity. You'll need to be a member before she reveals herself.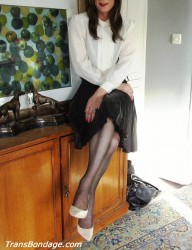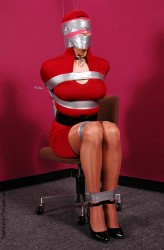 Sandra Gibbons
We're delighted to showcase galleries from well-established bondage model Sandra and her friends.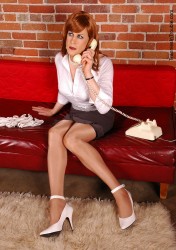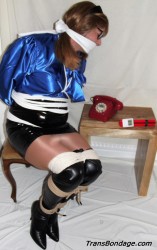 Stacy
Stacy is a member of the site who loves being tied up and loves wearing satin and leather. She has contributed pictures for everyone to enjoy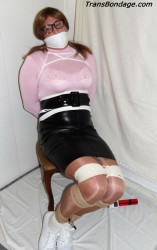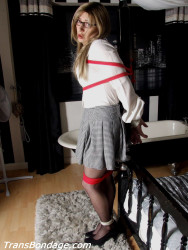 Terra Byte
The brilliantly named Terra Byte is new to bondage modelling but you'd never know it. She's a natural submissive and is perfectly happy in ropes, gags and blindfolds, particularly if she knows that being tied up is a prelude to some bondage fun